1001 TRICKS IN AN HOUR!
March 13-18 (SPRING BREAK) AT
THE INSTITUTION THEATER
Shows at 1:00 and 2:30 Daily–ALL shows are especially TODDLER FRIENDLY so bring those fidgety kids-they ALWAYS love the show and are RIVETED to the ACTION anyway.
UPDATE (Thurs, MARCH 16, 2017): Shows have been selling out so we added a 2:30 show to Thursday and Friday! Guarantee your seats by buying tickets now! If you can buy a ticket you have a seat! If PayPal says the show is sold out, then it's sold out.

Arrive 10 to 30 minutes early to claim your seats as we release tickets to the Stand By Line 10 minutes before the show.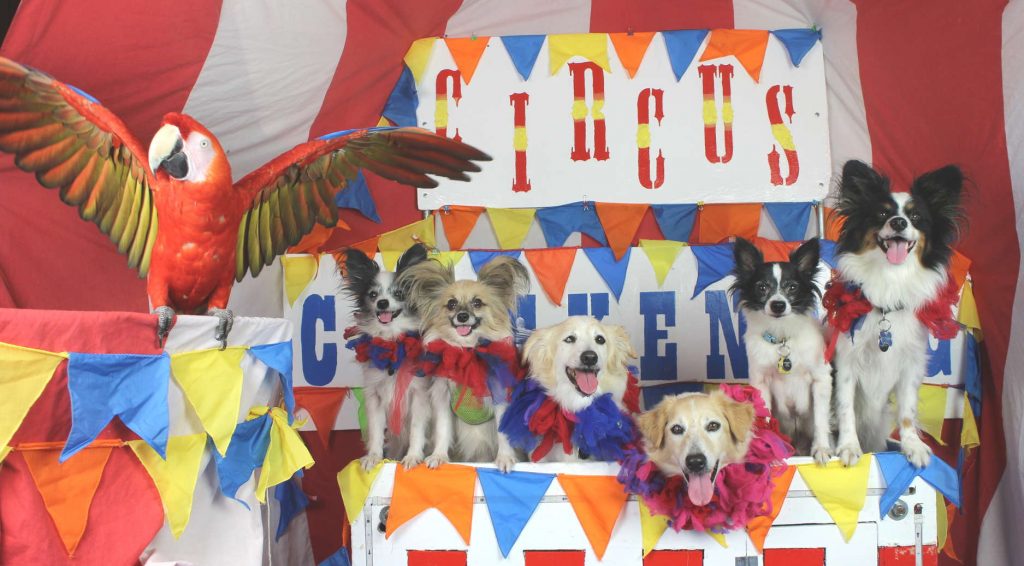 SIGN UP FOR OUR NEWSLETTER FOR ADVANCE NOTICE OF FUTURE SHOWS! (The tend to sell out so really, sign up)Tons of Dog tricks (with FIVE Rescued Dogs), Puppets, Giant Bubbles, a Scarlet Macaw, Juggling, Unicycling, Circus Balancing Acts, and LOTS MORE!!!!
 Follow the dogs on their journey as they search for the secret to finding their forever home. Somehow they always do something to keep from getting adopted so they can stay with their favorite human, Darren, Owner of Circus Chickendog's Rehabilitation Home for Wayward Dogs. Watch as Darren never realizes that the dogs just don't want to leave the circus!
Sign up for our Newsletter for Back Stage Offers!All in 55 minutes to keep even a toddler enthralled!!!Bring the whole family to enjoy this fabulous show together!Don't Delay! Limited Seating!!!Map to The Institution Theater
Seen on David Letterman, The Animal Planet, Donny & Marie