New Shows Starting
Saturday, August 17th, 10 am
Here's some of the fun we had back at the beginning of June:
This will be the Puppies' first June and we want to show them how much fun the summer can be!  Expect to see rescued dogs being rescued.  See amazing rope tricks and how they are used for hilarity instead of dragging cattle around.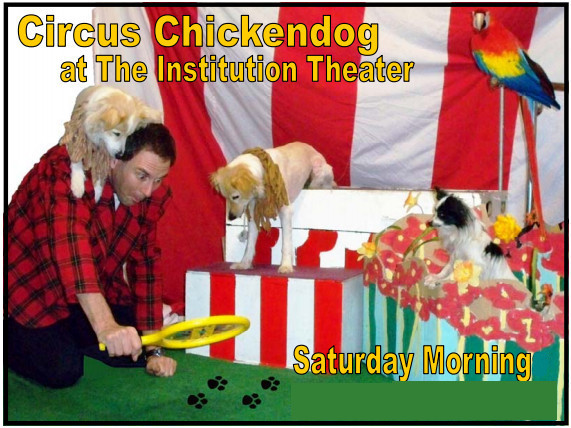 Join the circus ringmaster as he searches for his new shining star. But who will he choose? The spoiled rotten "Moose?" An actual clowning macaw? A "Mouse?" A "Coyote?" A "Squirrel?" That annoying Mosquito, cheerfully referred to as "Skeeter?" Or the smallest elephant with the biggest heart (That would be Jingles!)?
Come see this mash up of all your favorite fairy "tails" – with a unique Circus Chickendog twist, combined with true stories from Darren's childhood summer visits with his Grandma, Grandpa, and myriad cousins who all descended on the Gonzales farm for weeks upon weeks every summer!
Bring the whole family to enjoy this fabulous show together!
There will be no online ticket sales this week, but you can email or call to reserve your spot.  Cash or Credit Card accepted at the Box Office.
LIVE at the Beautiful INSTITUTION THEATER
3708 Woodbury Dr; 78704
Seen on David Letterman, The Animal Planet, Donny & Marie
Map to The Institution Theater: click here
Link to The Institution Theater: www.theinstitutiontheater.com