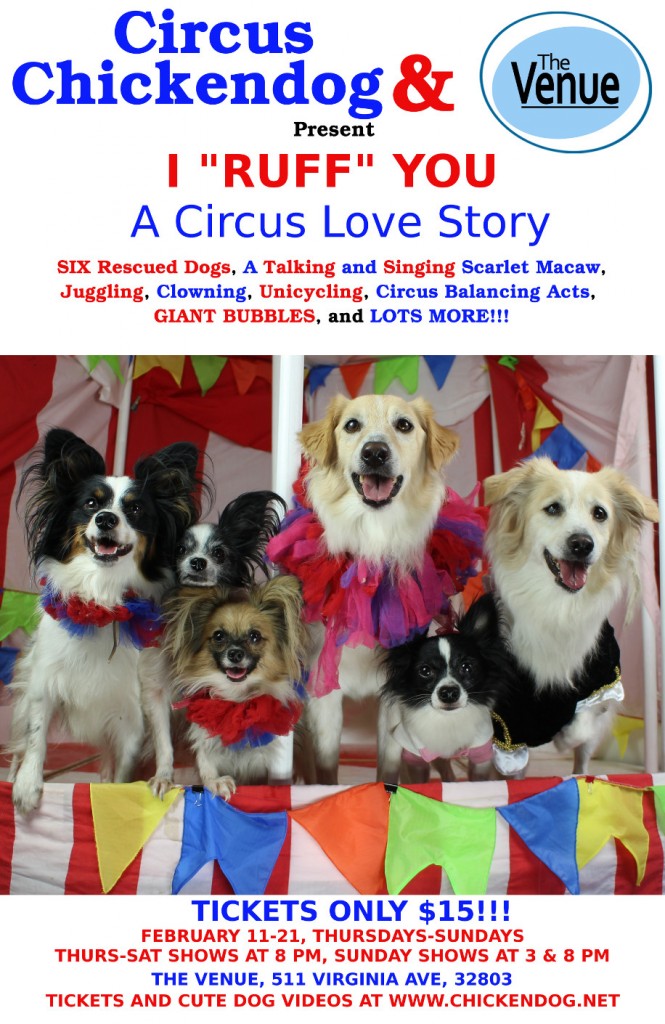 Our original play of Love and Compassion to Celebrate the Month of Love
Tons of Dog tricks (with SIX Rescued Dogs), puppets, Giant Bubbles, a Scarlet Macaw, Juggling, Unicycling, Circus Balancing Acts, and The Gentile Circus Family!
 Follow the dogs on their journey as they search for the secret to finding their forever home. Somehow they seem to always do something so they have to stay at the shelter with their favorite human, Darren, Owner of Circus Chickendog's Rehabilitation Home for Wayward Dogs. Watch as Darren starts to suspect that the dogs just don't want to leave!

Sign up (HERE) for Back Stage Offers and Show Announcements
Tickets to I "RUFF" HERE!
We LOVE Toddlers! Under 3 Years Old? Free Admission!
Sign up for our Newsletter for Back Stage Offers
 Will Call at the Box Office—–
Your Tickets will be at Will-Call and can be picked up 30 Minutes before the Show.
Juggling, Live Music, Six Rescued Circus Dogs, Giant Bubbles, Balancing Acts
All in 55 minutes to keep even a toddler enthralled!!!
Bring the whole family to enjoy this fabulous show together!
Don't Delay! Limited Seating!!!
Seen on David Letterman, The Animal Planet, Donny & Marie
 Map to The Theater (Coming soon!)