San Antonio news piece video and story – Circus Chickendog increases pet adoptions: https://www.youtube.com/watch?v=STRjvOu6SmM
A Video By The Austin-American Statesman that went with the Following Newspaper article.
---
A Behind the Scenes Look at Circus Chickendog!
By The Austin American Statesman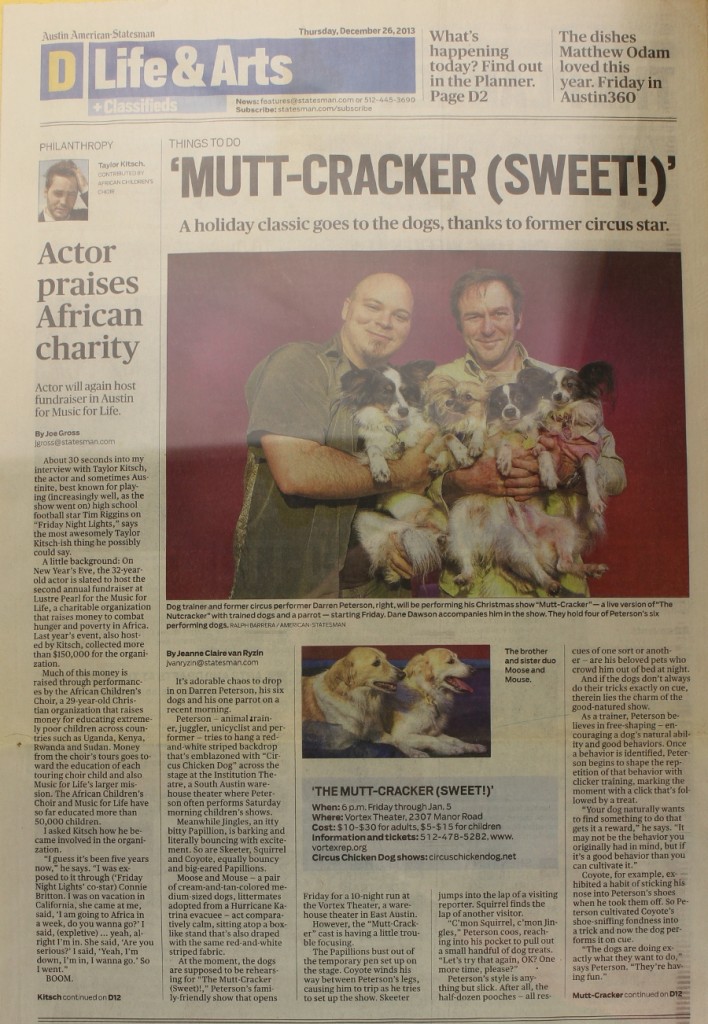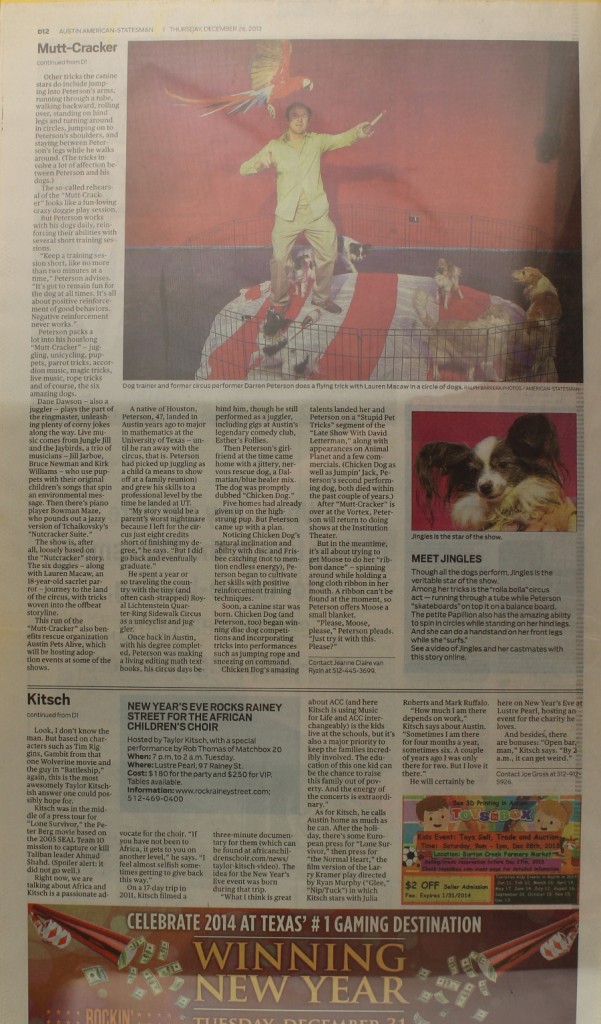 ---
Kids Show Dazzles Every Sunday Morning at South Austin Coffee Shop
Austin American Statesman July 11, 2005
Adults line up for coffee while kids marvel at the entertainment
Austin American Statesman
July 11, 2005
By Sarah Coppola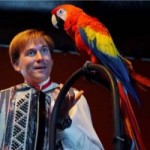 Kids' entertainer Darren Peterson, decked out in a crisp white shirt, black pants and bright red bow tie, is trying to coax a few words from his parrot pal, Lauren McCaw.
Splayed before him is a crowd of 100 kids and adults, riveted by his performance at the Ruta Maya Kids Show, a weekly Sunday morning show that has a loyal following.
Peterson offers Lauren McCaw a lollipop, and the parrot squawks the word. "Lauren, are you happy to be here?" he asks her. "Yes," she says. Enthralled, 4-year-old Sarah Bradley whispers to her mom, Elizabeth: "He's holding a parrot." Peterson then launches into a round of ABCs and leads his young audience in a rendition of "Happy Birthday" for Lauren, accompanying himself on the accordion.
Parents tuck kids on their laps and sip tall cups of coffee, relaxing in the cool shady spaces of the funky South Austin java shop.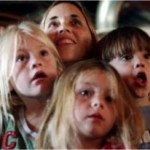 Kids crowd near the stage, gazing up at Peterson, who has a trove of tricks, such as giant bubbles, yo-yos and two dogs, Chicken Dog and Jumpin' Jack.
A little girl in a yellow print dress and bare feet toddles by. A boy munches animal crackers and marvels at Peterson juggling large red sticks. "Higher! Higher!" the kids shout. Peterson was the first act for Ruta Maya when the 10:30 a.m. kids show began many years ago. Now different acts rotate, but each draws a crowd.
"It's become a place for parents to kind of network and meet other parents," said Melanie Rose, who organizes the acts for the coffee shop. "I see a lot of them getting to know each other here and making plans to meet up with their kids during the week."
At Sunday's show, 2 1/2-year-old Aiden Byrd's eyes grew wide as Peterson led Chicken Dog and Jumpin' Jack in a jumping routine. Wendy and Eric, his mother and father, were impressed, too.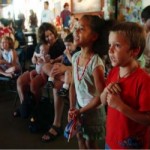 "We come here about once a month," Wendy Byrd says. "Aiden loves dogs." "All of the animals are so cute," Madison Goddard, 9, gushes, clutching a stuffed pig. Her mother, Mary Meyer of South Austin, heard about the show through a friend and knew that her bubbly, can't-sit-still daughter would enjoy it. Across the room, Jeanine Southall's nephew, 4-year-old Winston, stood on his chair as Peterson peddled a unicycle with one foot, dispensing wisdom here and there.
"Your mom will say some things that don't make sense to you," Peterson said, pedaling back and forth, "but you should always listen to what she says."
When the act ended, kids rushed the stage as though Peterson were a rock star. He handed out minihelicopters as they took a closer look at Lauren McCaw.
"It's great to be able to watch your children have such a blast," Wendy Byrd said.
---
Big Top Dog
Article from the Austin Pets Directory – 2005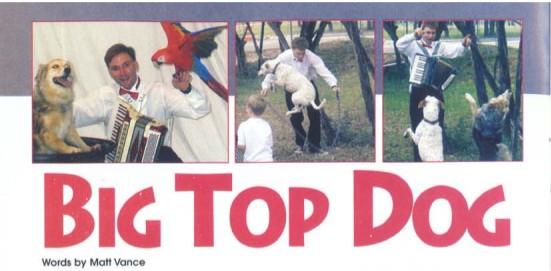 Click on the pages below for larger versions:
---