Welcome to the Super-Secret Special Fan Page!!!
I am always asked if I perform for birthday parties-It's pretty much my favorite type of show!  In fact, we were voted "Best Party Entertainer of the Year," by the Austin Chronicle's Reader's Poll and the show is even better in the theater!  Contact me directly if you'd like details about a visit to your home, but for the very best show that I can do, consider the benefits of renting The Institution Theater! You'll get an amazing party with lots of performers and we will do all the cleanup for you!
A party at the Institution Theater includes a 50 minute show in the lovely theater with comfortable seating for 36 (and room for 50 by adding folding chairs on the floor), a party room with tables and chairs for 24 children (you can invite more-they rarely all sit at the same time anyway!), meeting the cast in the theater after the show for pictures, a balloon twister or magician (depending on your preference) performing before and after the show, and a musician who provides live music (usually accordion) during the show. There is continuous entertainment for the kids from 9:30 to 11:30.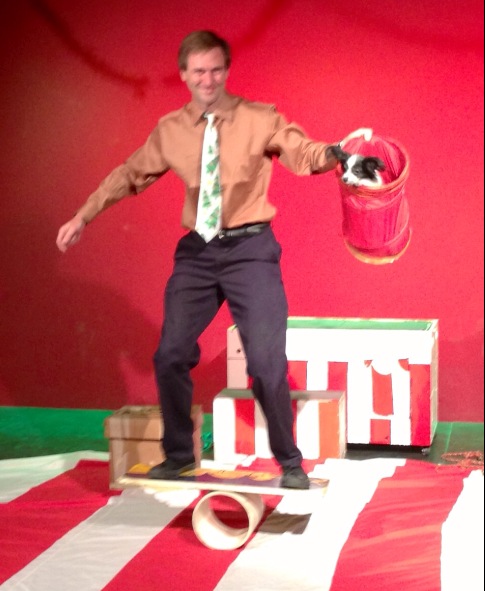 All you have to do is invite friends, decorate, provide snacks, cups and plates, and cutlery.
We handle all cleanup and there is a limited kitchen and fridge available for your use.
Every time we do a party at the Institution I am told by several moms at the show this is the best party they've ever been to!
The normal price? $695. But, for you, here's 20% off! Reserve your preferred date now and mention this offer! Only one birthday package is available per week!!!