We LOVE Birthday Parties!
Note-Tickets to I Ruff You are Now SOLD OUT!
AND BE THE FIRST TO KNOW ABOUT OUR NEXT SHOW!
Circus Chickendog is Pleased to Announce:
August 15-23, 2015
At  The Institution Theater, 3708 Woodbury Av, 78704
Puppets, Jugglers, Live Musicians, Six Rescued Circus Dogs,Giant Bubbles,        Scarlet Macaw, Balancing Acts, Combine for a Circus Rendition of the Holiday Classic!
All in 55 minutes to keep even a toddler enthralled!!!
Featuring SIX Rescued Circus Dogs, a Scarlet Macaw, Live Accordion, Juggling, Unicycling, and lots of other Circus Skills
Cute Dog Videos!!! (Click Here!!!)
Tickets and More "I Ruff You!" Info Here!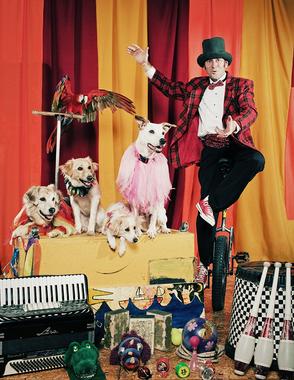 Trick Dogs, Performing Parrot, Magic, Juggling, Unicycling, Rope Spinning, Accordion Music, Giant Bubbles
& Lots more…