A Year In Review
The run of The "Mutt-Cracker" (SWEET!) ended on Sunday, 1/5/14, and in the past few days I've been reflecting on the show and the past year in general.  The year itself was incredibly informative for the show so I thought I'd take a moment and share a few standout moments to give some perspective and background on how this year's Mutt-Cracker (SWEET!), the best yet, came to be.
The year started off with a decent run of shows at The Institution Theater and I had been hoping to develop that into a regular Saturday morning show but got distracted by other projects and simply didn't take the necessary time to promote it as well as I needed to.  The good news is that those shows acted as a workshop that developed much of the material that we used for The Mutt-Cracker (SWEET!). More helpful than what we actually used was all the material that I cut— oh, the hilarious jokes, meaningful morality tales, and triumphant introductions for the dogs that we created at The Institution Theater….. they were great for those shows but simply didn't make the cut for The Mutt-Cracker (SWEET!). Sometimes an idea took too long to develop, other times a joke just wasn't funny enough to audiences, and sometimes scenes needed too many props and became unmanageable.  Even with all of that proofing of material, I still went into our Mutt-Cracker (SWEET!) rehearsals and had to cut almost everything new I had left from all the previous cutting.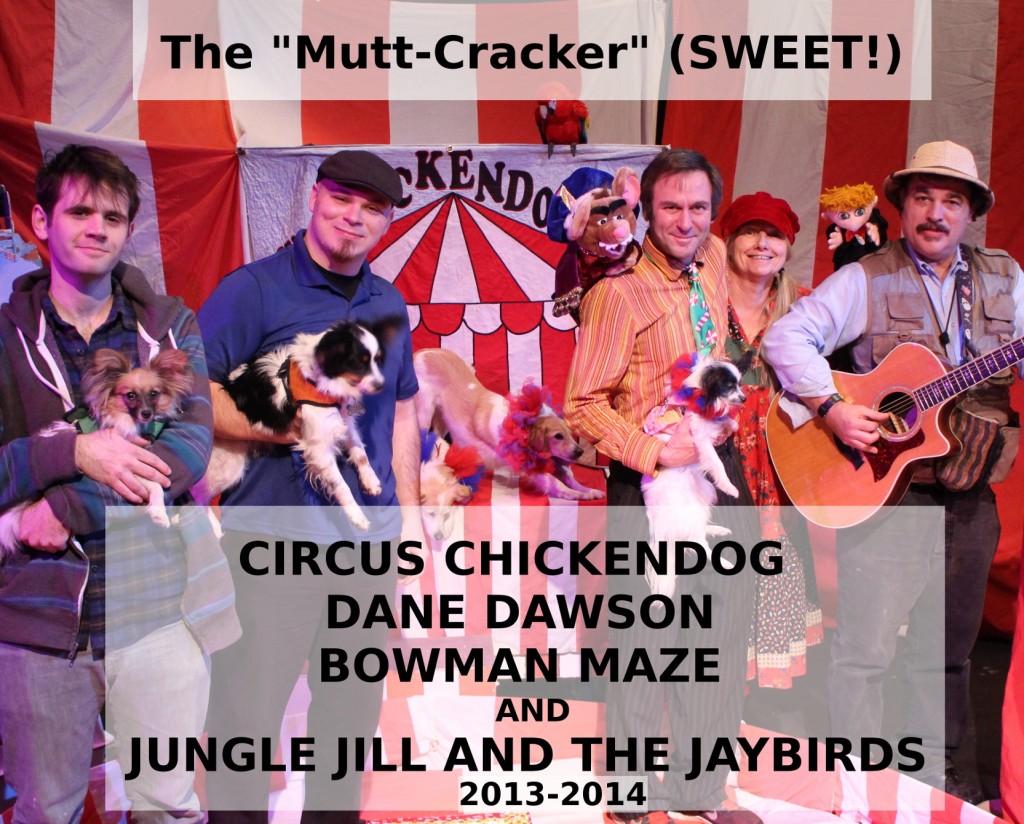 Interestingly related to the discussion of cutting, I recently came across the shorthand tl;dr, and had to look it up. It means, "Too Long Didn't Read" and found a dissertation on the idea on Wikipedia. Here's a quote from that article, "recall Pascal's famous quote, "I made this so long because I did not have time to make it shorter.""
Alas, I am no Pascal and so it is 90% cutting and condensing for my show.
The huge amount of material not used is a true tribute to Dane Dawson (balloonsbydane.com) and the musical puppetry of Jill Jarboe and Bruce Newman, who make up Jungle Jill and the Jaybirds, a lovely children's band.  After realizing how much great material we had showing off the dogs, doing shortened versions of my juggling and unicycling routines, and then adding in the songs that I knew I had to have Jill sing (can you believe she didn't even want to do the Sandwich Captain song???), there was little time for any storyline outside of moving the show along to the next scene.
Now it is amusing to remember how worried I was about casting but I had good reason for stress. My Clara from last year wasn't going to be able to do the show, Rich LeBoeuf (who did sword swallowing, juggling, and tons of behind the scenes helping last year) would be touring with The Zoppe Family Circus (I often came close to lamenting helping him land that job until remembering how happy I was that he is now living one of my dreams), and I had actually thought Dane would be off on some crazy adventure himself. I really struggled with the Clara character-consider that she is the central character, yet had little to do in the show because of my requirement that the show be first and foremost a skills-oriented show regardless of how we aspire to a smidgen of artistic merit. I had a real dilemma.
I'd been mulling over the casting of the show for months when I juggled at a throw away Halloween gig that had Bruce (of Jungle Jill and the Jaybirds) DJ-ing.  I'd always wanted to collaborate with the group, and had been thinking about the idea of having a puppeteer play the part of Clara. So when I saw Bruce, the Jaybirds' guitarist, everything came together in my mind. I mentioned the upcoming Mutt-Cracker show, got his info, and we all got together and talked about it a week or two later.  The basic meeting had them asking tons of questions and me having no answers except to say that I was open to all ideas as long as Jill played Clara as a puppet.  I assured them that I loved their general presentation (totally true!) and was sure that we could fit all the pieces together and have a really strong show. I emphasized that I didn't know how it would work exactly, but we each had separate shows that I loved (and my standards are super high!), add in Bowman handling the actual Nutcracker Suite plus other filler music (that I would pay to hear with no dog tricks involved) and then fill in any remaining gaps with Dane's general awesomeness. How could we not have an enthralling show? I mean seriously. Ok, without my editing skills to tie it all together it could have been a train wreck but even then, an entertaining one!
Speaking of casting problems, back on April Fool's Day I obtained two cute little puppies. It quickly came to seem like a huge mistake. Those tiny wisps of almost nothingness had ten dogs worth of personality and came to rule my life.
Everything changed-my show set up suddenly no longer worked so I had to build new ways to carry and contain the puppies for my shows. The dogs that I already had could all be trained together so I'd developed a great rhythm for training. Then the puppies came along. Not only could I not throw the puppies into the training mix, but the puppies themselves couldn't even be trained together.  And they needed way more attention than the older dogs. And they barked jealously whenever I trained the other dogs. And the other dogs were jealous of the new puppies.
Ugh, I'd just given myself something like 20 times more  work and it was imperative that I get the puppies' training started STAT! because they were already at the outer edge of puppyhood, they needed to be getting the idea of clicker training in while their brains were still soft so it'd have maximum impact.  The idea is like that of learning new languages for humans-you can do it anytime, but it's far easier when young and the younger the better.
Another reason I needed to get some hardcore training in was that my life wasn't going to be worth squat until I had some control over that puppy exuberance. An awesome girl I was dating totally stopped seeing me based on these puppies and totally blamed them. No problem there, I really did see this as more opportunity to concentrate on the dogs.
Things have smoothed out a bit and happily I picked up some really great training and work habits as a result of getting the new puppies.  And the new puppies even managed to merit a little Mutt-Cracker (SWEET!) stagetime with a few decent tricks, though I have to admit that their main attraction was a mix of simple cuteness and frenzied wiggling; which I was totally willing to cash in on! Some people said they were the highlight of the show.
There is much more worth mentioning but I'll just sum up to say that 2013 turned out to be a really great year. I got healthier, learned to make (and more important-IMPLEMENT!) schedules for training and work in general, took a dog training course that made (even!) me a much better trainer, and the show and dogs seem set to continue improving dramatically in the coming year, which is certain to drag the rest of my personal life along with them. Process over details?
Thanks to everybody who came out to see the shows or even said nice things about us! Nothing outside of playing with the dogs makes me feel better than getting that kind of support!!!
I hope everybody is as resolved as I am to make this the best year of their lives.  Good Luck!